Thanks to the pals from whom I shamefully stole Facebook photos from this post. For that and for being part of my marathon day – y'all are the best. sb
Oof. Where to begin? How about with some spoilers (illustrated by the situation's most perfect GIF):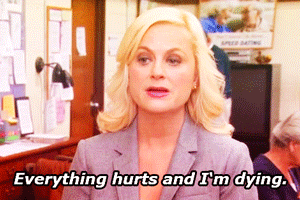 I (mostly) RAN A MARATHON. What?
I did not quite make it under 5 hours, and I am 100% OK with that.
I am never doing this again, except for the part where I totally have a plan for what to do differently when I inevitably do this again. More on that later.
My Wichita tribe is the best people. THE BEST.
No knee pain! A little soreness/tightness right after the race, but circumstances in that area are about the best I could have possibly asked for.
Pre-Race: Friday and Saturday
My travel to Wichita was uneventful, except for when the plane landed through a turbulent storm and it made my ears hurt and I was convinced the pain would never stop and everything was ruined. Obviously I was fine by the time the wheels touched the ground.
On Saturday, I drank one million ounces of water at breakfast and then went to the expo. It was pretty small – this whole race is pretty small, really, at least compared to what I'm used to with the Flying Pig. There are pros and cons to this, and overall it was a great experience, but for any potential future racers reading this, just know going in that there isn't the usual rigamarole of showing your ID at the expo and a million booths with fun swag and all of that. (And at the race itself, there are no corrals, no gear check and not much security.) Aaaaaanyway, I got my stuff (minus the shirt – that's for finishers only!) and spent the rest of the day peeing. Also, my awesome friend/surrogate mom Gaye drove me around the course, which was confusing and time-consuming. FORESHADOWING!
Then I had to go to Target and get a new phone armband and earbuds, because I couldn't find mine in my bags. They haven't turned up at home, either; who knows what happened to them.  ¯_(ツ)_/¯
Saturday evening, my friend/host Amy and I had our mutual friend Chandra, who was running the half marathon, over for a pasta feast. Everything was delicious and perfect. Afterward, I tried to stretch and chill, but my legs were already feeling SUPER antsy – like they knew something I didn't. I went to bed early and set my alarm for 5, but mostly tossed and turned from about 3:30 on.
Sunday: The Race
The weather was perfect at the start – no rain, no wind, just under 50 degrees. Amy dropped me off at the start and I got emotional when "Shake It Off" came on over the loudspeakers because I am a crazy person. Not, like, during the national anthem or anything, just crying to a T.Swift jam, IT'S FINE. I had choked down some toast and a banana back at the house, and I was trying to nibble on a Clif bar, but my nerves were not having it, so I just took my first Gu about 15 minutes before the start instead.
The first few miles were slower than I had intended (11:26, 11:06, 11:27 – first water stop), but I felt great at that pace and was keeping up with the 4:45 group, so I decided not to worry about it. The Church of Scientology had their own little (aka not race-sponsored) water stop around mile 3, but I declined the L. Ron Hubbard water and moved on, running around my old Wichita neighborhood.
I sped up a bit for the next few miles, averaging around 10:50. Here's where the course started to get weird. We were going through some quasi-suburban, wealthy neighborhoods with a lot of cul-de-sacs and dead ends, and there were some strange hairpin turns, running off the road and onto park paths, etc. that I felt were confusing and unnecessary. Like, we actually cut through someone's backyard and ran on grass at one point. Here's where I started to get a little discouraged – not because of my pace or how I felt or anything, but because I knew it was going to be tough not to run the course long. My Garmin was already 0.2 miles ahead of the official mile markers by about mile 10.
I kept trudging on, though, and crossed the halfway point around 2:25. In my mind, I'd been trying to treat the race as two 10-mile segments, followed by a 10K in which I would try to "turn up," as the youth say, if I had it in me at that point. Miles 10-18 were all between about 10:55 and 11:30, accounting for water stops and one bathroom break.
When we entered the Riverside part of town, the twists and turns started up again, and my distance kept getting farther ahead of the mile markers. I was tired, a bit bored, and about to be out of non-Gatorade fuel. I started taking Gu at mile 5 and at every other water stop after that point, so about every 4 miles. This was mostly fine, but it meant all my Gus were gone between miles 16 and 17, which I thought would be OK since I had read on the race website that Gu would be handed out at miles 17 and 21. PRO TIP: TRUST NO ONE, EVER.
So, yeah: somewhere between miles 18 and 20, I started to bonk. It didn't really feel like hitting the wall at the time, but I was just over it. The Gu was nowhere to be seen at either of the places where it was supposed to be available. My stomach was full of water and Gatorade, which made me feel full, but it wasn't really sufficient calorically to help me push through the last six miles. My lovely friend Gaye, who has run several marathons and knows what's up, joined me for those last few torturous miles WEARING JEANS and helped me push through and did not judge me when I stopped for many, many walk breaks. God bless her and keep her.
The last portion of the race doesn't look great on paper: with all the walking, I was averaging 12 minutes a mile from about mile 21 onward. That plus being 0.4 miles ahead of the official distance extinguished any desire of mine to try to finish under 5 hours; by that point, I simply did not care. I just wanted it to be done. And it was, in 5:02:44. A time of which I am oddly prouder than I think I might be of a 4:55 or 4:59. Shows I had to fight for it, you know?
If I Did It (Again), Here's How
I mean, let's be clear: I am currently chilling like the laziest villain, contemplating whether I will ever run again at all, let alone another marathon. Just kidding – yesterday I signed up for a local winter running group. WHO AM I, WHAT IS MY LIFE. But that doesn't start until November, so for now: chilling.
Here are the things I would change, if I did another marathon:
Train more. I don't think it's a coincidence that the wheels started to come off right around where my last long run ended. I needed more endurance practice, and next time, I would do a 22-miler (in addition to more 6-7 mile weekday runs). Lesson learned.
Fuel more, and never, ever rely on anyone else for my needs in that area.
Try to pick a course that doesn't turn/loop much, so running the tangents is easier (an out-and-back would be ideal, I think – for me, maybe not for others). Running MORE than 26.2 miles is not really the goal for a marathon.
As much as I loved the pancake-flatness of the course, I think some small rolling hills might have done me some good. I missed getting that bit of downhill momentum here and there that I'm used to in Cincinnati.
TL;DR: I ran a lot of miles and then I ate a lot of donuts and Thai food. That pretty much sums it up.
Year of the Marathon: COMPLETE.